Sustainable Cookware: A Guide to Non-Toxic Pots and Pans
  the best Eco Friendly & Non toxic cookware brandsWhen it comes to curating a sustainable home, pots and pans might not be the first items that come to mind. But sustainability in the kitchen is important too, since many pots, pans, and utensils contain toxic materials like teflon, heavy metals, flame retardants, and other chemicals—all of which can leach into food when heated. Fortunately, an increased emphasis on eco-friendly kitchens has sparked the emergence of more sustainable, non-toxic cookware available for your home. Whether you're roasting a chicken, braising veggies, or baking a batch of cookies, here's what to look for when browsing cookware—plus a list of sustainable brands you can feel safe using. How to Choose Sustainable CookwareOpting for eco-friendly, healthy cookware isn't difficult when you know what to look for. The first thing to stay away from is Teflon, a core ingredient in traditional, non-stick cookware. Teflon is the brand name for a waterproof chemical called polytetrafluoroethylene (PTFE), the manufacture of which can cause the creation of perfluorooctanoic acid (PFOA)—a known carcinogen. In fact, ovarian, prostate, bladder, and testicular cancers have all been linked to PFOAs (also known as PFAs). While Teflon itself has mostly been phased out in new cookware creation, other non-stick coatings may still contain PFOAs, unless explicitly stated otherwise. Plus, PFOAs have endured in environments for many years. Since the FDA allows certain PFOAs in cookware and other consumer products, it's important to steer clear of any cookware brands that don't consider themselves PFOA-free.Opting for certain cookware materials can reduce the chance of exposure to PFOAs and other toxins. The best options for cookware include:Cast iron. As long as your iron levels aren't high, cast iron pans are a durable, long-lasting solution for any kitchen. Plus, they'll get seasoned over time, meaning the flavor will get richer (with minimal cleanup required).Enameled cast iron. A step up from standard cast iron pans, non-toxic enamel surfaces help prevent sticking and rusting, so this kind of cookware may last longer than unenameled counterparts. Stainless steel. Using stainless steel cookware is a smart choice, since it's extremely durable and distributes heat well. They also wont tarnish or affect the flavor of your food—just make sure to prepare the pan properly to prevent sticking.Ceramic. Today, ceramic is one of the best options for cookware, as it's nontoxic and easy to use. Plus, it tends to be more eco-friendly (and comes in a range of colors and styles).Now, our top picks for sustainable, eco friendly cookware brands: 1) Shades of GreenShades of Green is a marketplace that offers a range of eco-friendly home decor and kitchen items. Their line of cookware includes beautiful cast iron items, including dutch ovens and skillets. Since Shades of Green is committed to furthering transparency in consumer products, you can be sure they only sell non-toxic, environmentally-friendly cookware that keeps you and your loved ones healthy. Shop Shades of Green 2) Our PlaceOur Place has been advertised everywhere as of late, and for good reason. Their sell-out product, The Always Pan, is eight pieces of cookware in one, making it great for minimalists. It's made of non-toxic, non-stick ceramic and is free of harmful materials like PFOAs, lead, heavy metals, and more. Plus, it comes in a range of earth tones that look sharp in a modern kitchen. They also have knives, plates, and mugs that can accompany your new eco-friendly setup. Shop Our Place 3) CarawayCaraway is a newer company that cares just as much about consumer health as it does about design. This ceramic-coated cookware looks sleek and fresh, but operates at maximum non-stick capacity (without the chemicals). In fact, their ceramic coating is made from minerals and requires less oil or butter for easier cook
the best Eco Friendly & Non toxic cookware brands
When it comes to curating a sustainable home, pots and pans might not be the first items that come to mind. But sustainability in the kitchen is important too, since many pots, pans, and utensils contain toxic materials like teflon, heavy metals, flame retardants, and other chemicals—all of which can leach into food when heated. 
Fortunately, an increased emphasis on eco-friendly kitchens has sparked the emergence of more sustainable, non-toxic cookware available for your home. Whether you're roasting a chicken, braising veggies, or baking a batch of cookies, here's what to look for when browsing cookware—plus a list of sustainable brands you can feel safe using.
How to Choose Sustainable Cookware
Opting for eco-friendly, healthy cookware isn't difficult when you know what to look for. The first thing to stay away from is Teflon, a core ingredient in traditional, non-stick cookware. Teflon is the brand name for a waterproof chemical called polytetrafluoroethylene (PTFE), the manufacture of which can cause the creation of perfluorooctanoic acid (PFOA)—a known carcinogen. 
In fact, ovarian, prostate, bladder, and testicular cancers have all been linked to PFOAs (also known as PFAs). While Teflon itself has mostly been phased out in new cookware creation, other non-stick coatings may still contain PFOAs, unless explicitly stated otherwise. Plus, PFOAs have endured in environments for many years. Since the FDA allows certain PFOAs in cookware and other consumer products, it's important to steer clear of any cookware brands that don't consider themselves PFOA-free.
Opting for certain cookware materials can reduce the chance of exposure to PFOAs and other toxins. The best options for cookware include:
Cast iron. As long as your iron levels aren't high, cast iron pans are a durable, long-lasting solution for any kitchen. Plus, they'll get seasoned over time, meaning the flavor will get richer (with minimal cleanup required).

Enameled cast iron. A step up from standard cast iron pans, non-toxic enamel surfaces help prevent sticking and rusting, so this kind of cookware may last longer than unenameled counterparts. 

Stainless steel. Using stainless steel cookware is a smart choice, since it's extremely durable and distributes heat well. They also wont tarnish or affect the flavor of your food—just make sure to prepare the pan properly to prevent sticking.

Ceramic. Today, ceramic is one of the best options for cookware, as it's nontoxic and easy to use. Plus, it tends to be more eco-friendly (and comes in a range of colors and styles).
Now, our top picks for sustainable, eco friendly cookware brands:
Shades of Green is a marketplace that offers a range of eco-friendly home decor and kitchen items. Their line of cookware includes beautiful cast iron items, including dutch ovens and skillets.
Since Shades of Green is committed to furthering transparency in consumer products, you can be sure they only sell non-toxic, environmentally-friendly cookware that keeps you and your loved ones healthy.
Shop Shades of Green
---
Our Place has been advertised everywhere as of late, and for good reason. Their sell-out product, The Always Pan, is eight pieces of cookware in one, making it great for minimalists. It's made of non-toxic, non-stick ceramic and is free of harmful materials like PFOAs, lead, heavy metals, and more. Plus, it comes in a range of earth tones that look sharp in a modern kitchen. They also have knives, plates, and mugs that can accompany your new eco-friendly setup.
Shop Our Place
---
Caraway is a newer company that cares just as much about consumer health as it does about design. This ceramic-coated cookware looks sleek and fresh, but operates at maximum non-stick capacity (without the chemicals). In fact, their ceramic coating is made from minerals and requires less oil or butter for easier cooking prep and cleanup. You can choose from items like sauce pans, dutch ovens, and sauté and fry pans. If that's not enough to love, their cookware comes in a range of gorgeous color options like sage, marigold, and perracotta.
Shop Caraway
---
Versatile, non-toxic, and purely ceramic, Xtrema makes some of the best sustainable cookware options on the market today. Their cookware is known for retaining heat evenly across every pot and pan, offering a clean, regulated bake or sautée from start to finish. You can also use their pans anywhere, from the microwave, to the stovetop, to the barbeque, offering more creativity to bring all your imaginative cooking creations to life. The best part? They're made to last forever—and then some.
Shop Xtrema
---
Great Jones makes trendy, functional cookware that empowers your greatest creations in the kitchen. Their non-toxic, enameled cast iron is non-stick and easy to clean. Additionally, these products are dishwasher-friendly and multifunctional, so they don't cause a fuss to use. Great Jones is also known for its bakeware, including non-stick baking sheets that are PFOA-free and require minimal oil (and no parchment paper) for perfect baked goods. Another reason to love them: they've been known to take a stance against injustice and support equality initiatives both in-house and throughout society.
Shop Great Jones
---
Since 1896, Lodge Cast Iron has been making high-quality cast iron cookware. Today, they sell a range of items spanning seasoned cast iron, enameled cookware, bakeware, and more. In addition to the fact that cast iron is a durable, long-lasting material that doesn't contain toxins, Lodge is a company committed to sustainable practices. For example, they use biodegradable packaging, enforce company-wide recycling, and leverage equipment that minimizes energy usage.
Shop Lodge Cast Iron
---
Tuxton is one cookware brand that's leading the way in sustainability. In addition to creating pots and pans that are 100% food safe and totally free from BPA, PFOAs, PTFEs and lead, they pursue company-wide eco-friendly practices, including recycling of materials like clay, plaster, and ceramic, plus a water recycling and energy reduction program. They also use recyclable stainless steel handles. Lastly, Tuxton is known for having an impressive non-stick coating that's also non-toxic and long-lasting.
Shop Tuxton
---
When you want a transparent cookware company, look no further. The product developers at Ozeri chose to use Greblon ceramic in their cookware, a material that's 100% free from PTFEs, PFOAs, APEOs, NMPs and NEPs. In other words, you won't find any nasty chemicals here—but you will find lots of perks. Take the textured surfaces of their pans, for example, which distributes heat evenly for a solid cook. The base of their pans are made from heavy-gauge die-cast aluminum, which is long-lasting and free from heavy metals.
Shop Ozeri
---
Crafting a Safe Kitchen with Non-Toxic Cookware
From baking pans, to dutch ovens, to spoons and spatulas, the average kitchen is filled with opportunities for toxins and other unclean materials to seep into our food. Fortunately, opting for sustainable cookware is a healthy investment that protects both your family and the environment for years to come.
---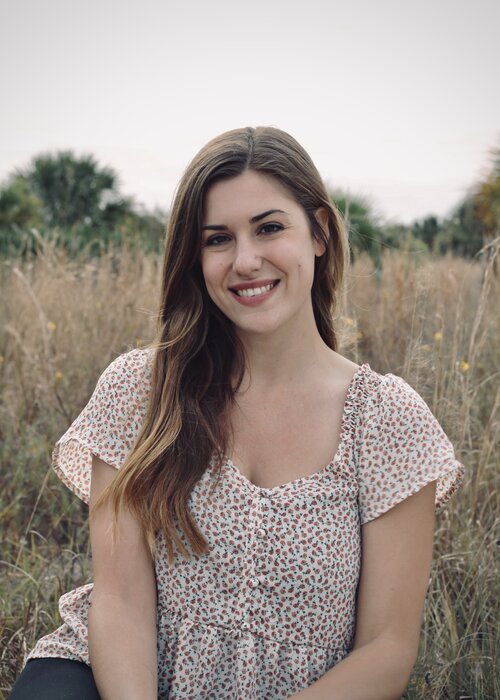 About the Author
Michelle Polizzi is an independent writer and storyteller with 7 years of experience creating content online. Her writing has appeared in leading publications like Bitch, WELL+GOOD, Insider, and Healthline, and she covers topics like sustainable living, mental health, and intersectional feminism. Currently, she's pursuing an MFA in creative writing.
---
MAKE SURE TO PIN THE PHOTO BELOW TO SAVE THIS POST FOR LATER!
---
WANT MORE SUSTAINABLE BRANDS? VISIT OUR BRAND DIRECTORY!
Our Brand Directory is home to hundreds of sustainable brands, from makeup to cleaning supplies, from underwear to shoes. We have broken everything down by category for easy shopping, along with discount codes unique to Sustainably Chic viewers.
Shop the Sustainable Brand Directory
---
RELATED READING YOU MAY ALSO ENJOY:
---